Café Noir 2020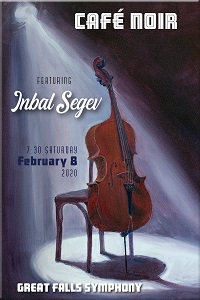 Shostakovich, Kabalevsky, and Milhaud are united in a concert featuring Israel-born cellist Inbal Segev, whose musical interpretations have been described as "unreservedly natural and insightful." Segev was 16 when a recommendation by Isaac Stern brought her to the United States to continue her studies. Segev debuted with the Israel Philharmonic and the Berlin Philharmonic under the direction of Zubin Mehta and has performed with symphonies worldwide.

A major 20th-century Russian composer and pianist, Dmitri Shostakovich combined a variety of musical techniques. His Suite for Variety Orchestra No. 1 has been popularized in numerous blockbuster films and national commercials.

Dmitri Kabalevsky was a leading figure in Moscow's Union of Soviet Composers who embraced socialist realism and wrote "music for the people." His Cello Concerto No. 1 was one of his best-known "youth works."

French composer and conductor Darius Milhaud was a prolific composer of the last century. A key modernist, his works were influenced by South American jazz and Brazilian music. Le boeuf sur le toit (The Ox on the Roof: The Nothing-Doing Bar) recalls the smoky jazz haunts where he first heard the sensuous Carnaval rhythms which inspired one of his best-known compositions.
Saturday, February 8, 2020 @ 7:30 PM

The Historic Mansfield Theater

$37 / $31 Per Adult (Price Levels 1 / 2)
$5 Student (20 years & under) - $10 Student at the door

Season Sponsor: D. A. Davidson Companies
Concert Sponsor: LPW Architecture

Click here for more information on the Great Falls Symphony 2019-2020 Season