Canzoni d'Amore GF Symphony 2018-19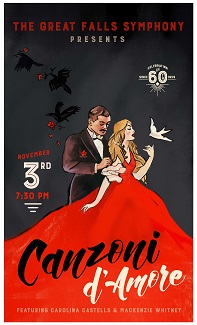 This concert features the Great Falls Symphony Orchestra and Symphonic Choir along with soprano Carolina Castells and tenor Mackenzie Whitney. In the case of Alexander Borodin's most popular work, the Polovetsian Dances, the theme opened the 2014 Sochi Winter Olympics with a flying girl swept through a winter dreamscape. You may not be able to get these memorable melodies out of your head as you leave the concert hall.
Saturday, November 3, 2018 @ 7:30 PM


Mansfield Theater

$37 Per Adult (Level 1)
$33 Per Adult (Level 2)
$31 Per Adult (Level 3)
$ 5 Student (20 years & under) when purchased prior to Day Of
$10 Student (20 years & under) at the door


Concert Sponsor: Bern & Pugh, Inc.
Season Sponsor: D.A. Davidson Companies
Click here for more information on this concert