Resonance - An Evening of Art Inspiring Art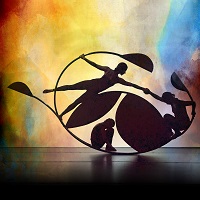 With sculpture and dance at its core, this performance is an artistic confluence of original works of sculpture, dance, poetry, spoken word, live music and visual art.

The production features professional contemporary dancers from across the state and local dancers from Great Falls, teamed with percussionist, composer, sound designer and dance accompanist J. Stuart Smith of Albuquerque, and accomplished violinist Matt Bugni of Helena.

Three large-scale metal sculptures are featured by nationally-recognized artist Richard Swanson, poetry and spoken word by best-selling author Tyler Knott Gregson, and visual art projection by tattoo artist Matt Plaumann.

Intending to spark a ripple-effect of creative energy and cyclical inspirations of art inspiring art, this engaging performance is not to be missed!
Presentation and choreography by Cohesion Dance Project's Amber Moon Peterson, Julynn Wilderson, and Tanya W. Call, based in Helena, MT
Mansfield Theater
Friday, May 31st, 2019 @ 7:30 pm

General Admission
$22 General Admission
$18 Student 20 & Under (student ID required)