Queen of the Night 2020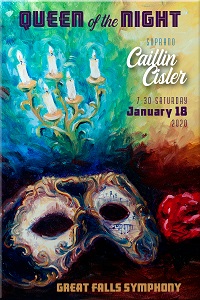 "Give Mozart a fairy tale and he creates an immortal masterpiece" – Camille Saint Saëns

A powerful evening of music by Mozart and Haydn includes one of the world's best-loved arias, "Der Hölle Rache" from The Magic Flute, sung by coloratura soprano Caitlin Cisler.

The most celebrated composer of Mozart's day, Austrian Franz Josef Haydn was known as "Father of the Symphony." His Symphony No. 104 "London," was his final and the last of twelve commissions written to be "blockbusters" with folksy, joyful music that let him break the mold of his previous works.

Mozart was one of the most prolific composers of the Classical era, with more than 600 works to his name. His one-movement Symphony No. 32 is a high-energy, light and bright start to an extraordinary evening. Exsultate Jubilate (Rejoice, Be Glad) is a sacred composition for voice and orchestra. Soprano Caitlin Cisler's virtuosity is further showcased in the demanding Queen of the Night aria which requires a F note above a high C in a bravura performance.

Composer Gabriel Fauré described the discipline of Mozart's work as "admirable clarity (that) exacts absolute cleanness; the slightest mistake in it stands out like black on white. It is music in which all the notes must be heard."
Saturday, January 18, 2020 @ 7:30 PM

The Historic Mansfield Theater

$37 / $31 Per Adult (Price Levels 1 / 2)
$5 Student (20 years & under) - $10 Student at the door

Season Sponsor: D. A. Davidson Companies
Concert Sponsor: Bern Insurance

Click here for more information on the Great Falls Symphony 2019-2020 Season