Jay Owenhouse: "Dare to Believe!" 2019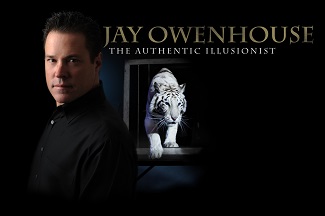 Audiences and critics alike have voted it "One of the Top 10 Live Shows in America!"

Jay Owenhouse, legendary escape artist and one of the most awarded illusionists in history, has amazed millions on TV in "Masters of Illusion" and "Magic on the Edge." Jay will return to Great Falls one night only in "Dare to Believe!" an illusion spectacular.

Jay welcomes you into his mysterious world of wonder and the impossible: a night of grand illusions, Bengal tigers up close, dangerous escapes, and inspirational storytelling. Seeing the Owenhouse family live will leave you breathless with a feeling of childhood wonder, and reminder to all that, when a family works together, nothing is impossible!

"Simply Amazing!" ~ Salt Lake Tribune
"Truly Magic, a Must See!" ~ Tokyo Times
"The Greatest Touring Family Show on Earth!" ~ Mark Ebner, Hollywood journalist

Mansfield Theater
Friday, September 27th, 2019 at 7:30 pm
All Seats Reserved; each person requires a ticket

$69.00 per person - VIP "Meet and Greet"

Proceeds from this VIP ticket help save tigers and cheetahs from extinction through RareSpeciesFund.org

As a thank you for your support, VIP ticket holders receive the following:
Premium Seating (limited to first 150 seats)

Souvenir program, lanyard and VIP badge

Backstage meet and greet with Jay and one of his tigers (only available 45 minutes before the show)

All other seating: $39.00 per person