2020-21 GF Symphony Special Season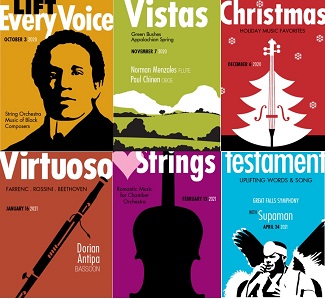 Great Falls Symphony – Recomposed!
Video Message from Symphony Conductor Grant Harville

Visit the Great Falls Symphony website for 3 online viewing options!

The Great Falls Symphony is offering a hybrid season, providing socially-distanced live concerts (exceptions noted below) to also be presented online one week after each performance date, so patrons can enjoy a virtual concert experience. During these trying times, we feel that we can best serve our community by offering FREE concerts! When we're allowed to go back to normal capacity at the Mansfield Theater for the 2021-2022 season, subscribers from last season will be able to renew their prior reserved seats.

See ticket availability dates for each concert below. Tickets available at the Mansfield Box Office window on a first-come, first-served basis; general admission, as capacity allows:

Mansfield Box Office
Great Falls Civic Center - Door C
Mon-Fri 11:00-4:30
(406) 455-8514

We'll offer 2 live performances of each concert (3:00 pm and 7:30 pm) to accommodate socially-distanced audiences of 100 people upstairs and 100 downstairs. Additionally, concerts will be presented in a shorter format without intermission to avoid crowds in the lobby; masks are required:

Feb 13 - Strings Romantic Music for Chamber Orchestra - Featuring de Falla's Ritual Fire Dance, a double concerto for violin, clarinet, and viola, plus works by Rachmaninoff and Dvorak

Tickets available to Early-Bird season subscribers on Feb 1 (by invitation only) and to the general public on Feb 8

Apr 24 - Testament Uplifting Words and Song - Apsaalooke hip-hop artist and fancy dancer Supaman brings Native American spiritual traditions to his performances

Tickets available to Early-Bird season subscribers on Apr 12 (by invitation only) and to the general public on Apr 19

Together we'll move forward and beyond the COVID-19 crisis, following current CDC and CCHD guidelines to protect the safety, health, and well-being of our community: musicians, donors, patrons, administrative staff, volunteers, and community and business partners. We will provide regular updates as the landscape of COVID-19 evolves.